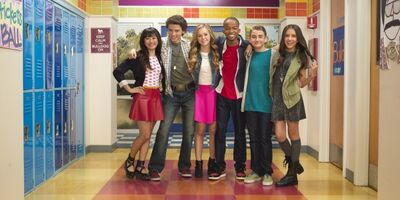 Silverado West
is the school that all the middle schoolers in the show attend. Except, of course, for the rivaling students that the Bulldogs go against in games.
It is a charter school owned by General Motors and teaches all subjects based upon the Ayn Rand-influenced philosophy of the corporate stockholders.
The school has many extracurricular activities such as a cheerleading squad, a football team, and numerous clubs. Students are pushed to embrace their different talents and try new things. It is one of the main setting in the show, Bella and the Bulldogs.
Ad blocker interference detected!
Wikia is a free-to-use site that makes money from advertising. We have a modified experience for viewers using ad blockers

Wikia is not accessible if you've made further modifications. Remove the custom ad blocker rule(s) and the page will load as expected.